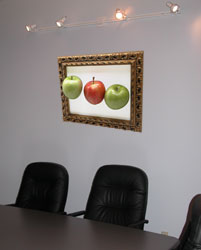 Photo Sculpture
Photographic Giclee prints approximately 16" x 20" are mounted on black PVC substrate then cut to irregular shape with a hanging tab on the back so it can be hung on the wall. The photo is protected by a UV lamination to protect from fading and provide a durable surface that can be cleaned. It is signed by the artist Tim Pahs on the back. Exact size varies, depending on the cutout shape. Perfect for hanging in a gallery, home, kitchen or office.
The unique style of art photography, Tim calls photo sculpture because it combines photography with a sculpted shape beyond traditional photography.
Contact the artist to purchase. $175 plus shipping. Choose from any of the works of art in the portfolio.
Gift wrapping available, add $10 to include gift wrapping and personalized card.