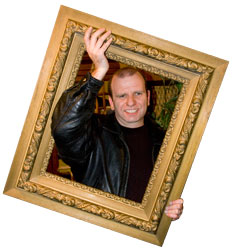 about the artist:
Tim Pahs is a fine art photographer, exhibiting his artwork in art galleries, businesses and purchased for private collections. In my photography I try to capture a story with a single image. The photographs capture a mood, trigger a memory or invoke a feeling.
I combine depth, color and composition. Although the photo images are still a flat 2 dimensional image, the perspective of the photographs appear to jump off the wall. The first comment many people make is, "how did you do that?" My photographic style is "Trompe l'Oeil", which is a French term meaning to "trick the eye".
The first photographs in the series started with a picture frame in the photograph when I shot it. I still matted and framed the photograph. It evolved into the frame being part of the photograph. I call the artwork photo sculptures because they are cutout to an irregular shape. The photos are cleaned up and touched up in Photoshop, but the primary image is one strait photograph.
The frame is actually part of the photograph, many times objects extend outside of and over the frame. The Giclee photographs are laminated for protection, mounted on pvc substrate material and cutout to a unique shape by a computer guided router. Each print is signed on the back by the artist.
I have exhibited in galleries and businesses from 1990 to present. I am an active member of Eastbank Artists Association, Inc. with the honor to have been elected president of the group for four years.
I received my bachelor degree in art and photography from the University of Wisconsin-La Crosse. I have taught several different classes and currently teach a drawing class at University of Wisconsin-La Crosse.